Process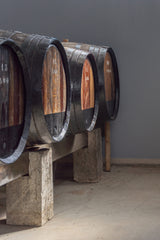 The art of making Ginjinha
Good tree, good fruit.
There's no way around it. To get the best nectar you need to get your hands on the best fruit.
That's why we do all the picking, selection, and removal of the stalk of our sour cherries manually.
And as the soils of our orchard agree with the temperament of the sour cherry trees — which can only grow in the wild — the quality of our fruit is guaranteed by nature.
The ritual, unchanged.
After the joys of the harvest, our cherries go on to maceration.
The ritual is the same as it ever was: we add alcohol and water to the fruits and we let them sit for a year.
At the end of this first period, the cherries are removed — as they will have another purpose — and the resulting nectar is aged in oak barrels.
The finishing touches.
A few months later and the characteristics that give our Ginjinha its unmistakable flavour have already settled in.
After clarification, which we still proudly carry out using traditional methods, we add the necessary sugar to balance out its tones.
On to the bottles.
After perfecting the potion, the bottling is done in two varieties: one with just the liqueur, the other with some of the sour cherries that were originally used in the maceration.
We are often told that one is good and the other is better. But some say it of one, some say it of the other. We think that's a good sign.
Video